Fano Blue Flag, for the quality of sea and services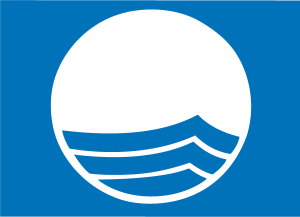 The Blue Flag works towards sustainable development of beaches and marinas through strict criteria dealing with water quality, environmental education and information, environmental management and safety and other services.
We like to think that also Bagni Peppe has contributed to receive this award for Fano.
Accomodation and Beach Services
Beach umbrellas and beach huts
Beach beds and chairs
Lifeguard service (from 10 a.m. to 6.30 p.m.)
Cold and hot showers
Disabled toilette
Changing room
Baby changing table
Baby park and entertainment service for children
Babysitting (on demand)
Pinball game and table tennis
Gazebo/relax area
Cards tournaments
Internet access WiFi
Swimming pool
Swimming lessons for children
Acquagym
Ginnastica dolce in piscina
Swimming lessons for 0-3 years babies
Parties at the beach
Disabled chair for access to the sea
Defibrillator
For any need or clarification on the use of equipment and services we are happy to be at your disposal.
✻
Summer rates 2022
Tariffe e combinazioni di prezzi (in euro), per godere della nostra spiaggia durante la stagione estiva 2022 (1°giugno – 5 settembre).
1 day
7 days
15 days
Month
Season
Beach hut
7,00
42,00
90,00
130,00
280,00
Beach umbrella
Front Row
(+ 2 beach beds)
23,00
150,00
250,00
330,00
700,00
Beach umbrella 2nd Row

6,00
41,00
81,00
120,00
280,00
Single beach bed
(under umbrella)
7,00
44,00
71,00
90,00
185,00
Single beach bed
7,00
47,00
84,00
120,00
220,00
Single beach chair
5,00
27,00
35,00
50,00
120,00
P.S. 15% extra for beach equipment used by more than 4 people or at least 2 family units.